I have about 4 dozen of these coins left and it is time to move them out!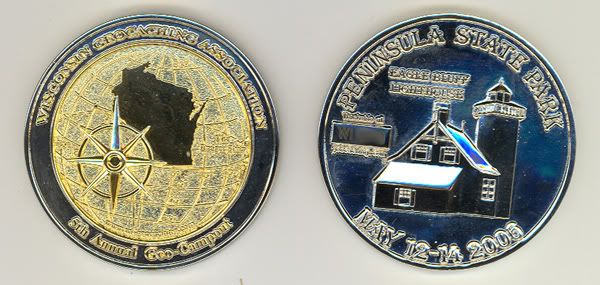 250 of these coins were produced to commemorate the 5th Wisconsin Geo-campout event last spring and were used as a fund raiser for the
WGA
. Original price was $10, but since it is a new year, I am lowering the price to $8.50. Shipping is $2 for up to 3 coins - (if you want more than 3, I'll figure it out for you).
Coin details:
1.75 inches, 3-D
Trackable with the Wisconsin icon
250 made
Two-toned, shiny gold over shiny nickel (which is why the scan isn't the greatest - too shiny!)
Coins come with the activation codes
The front is a replica of the 2005 WI coin with the organization and event name in a silver ring around it, the back has the event date, location, and a picture of the Eagle Bluff Lighthouse in that park.
Email me with the usual info, especially your paypal email, and I will send an invoice. When they are gone - they're gone!