Random segments appear to still have the meters errors, I won't pull the download since it doesn't affect the all the segments but expect a new release by the end of the weekend. The following quads have errors: E5, F2-F4, G2, G6, H2-H5, I1-I5, J4, J6. (25%)
Hey everyone,
I'm not quite as fast as indyjpr but I have finally released my first total state coverage topographic map. My map for Arizona is complete and available from
my new website here
.
Topo map information:
40 ft Contours

High resolution water data

Road Data

Railroads

Land Use Data (except indian reservations)

State and County boundaries

Trails - limited trail coverage including: Grand Canyon, Sunrise Ski Park, Granite Mountain Recreation Area trails, and a few others

Segment sizes at 100k grid so its great for older GPSr's
Here are a few screenshots as well as comparison with Garmin's two Topo maps:
Garmin 60csx: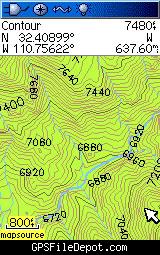 Comparison with current Garmin Topo's: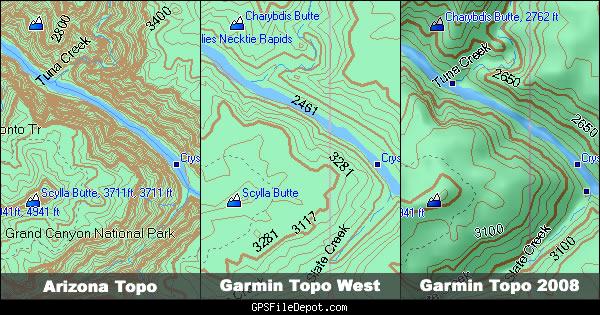 If you have any questions or issues let me know. I hope to release an update in a few weeks.
Once again:
Arizona Topo Map v1.01
Thanks to IndyJpr for all his help and Carl for providing the trails for the Grand Canyon. And also thanks to everyone who pointed out the errors in v1.00.
This post has been edited by robertlipe: 12 April 2008 - 09:34 PM